Best Apple Watch Series 3 bands
Today's the day to order an Apple Watch Series 3, unveiled at Apple's keynote in Cupertino last week. And, we've got the must-have bands to outfit it.
Whether you embark on the Series 3 or just want to up the ante of your current Apple Watch, Cult of Mac has rounded up the top 10 bands to do just that. These are some of Watch Store's best-selling bands for Apple Watch — bands we personally love and recommend for their quality, craftsmanship and style.
All of the newest bands and many more from each brand are available in our Watch Store. Read on and check out our must-haves.
Best Apple Watch bands for Series 3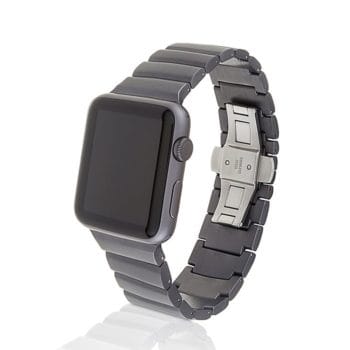 Juuk Ligero Band in Cosmic Grey
This is one of the best luxury anodized aluminum Apple Watch bracelets we've seen. The Ligero is Juuk's third and probably most intriguing band because it's the first made from extremely high-grade aluminum for Apple Watch. Check out all of Juuk's steel bands including the Locarno and Revo collections.
Shop Juuk bands here!


Meridio Leather Band in Old Brown
Meridio is a small assemblage of artisans based in Tuscany who hand-make fine, leather bands for Apple Watch. Watch Store customers love Meridio bands for the quality, fit and refinement. Peruse eight collections of Meridio bands — Suede, Vintage, Heritage, Nappa, Galuchat, Cavallino, Ostrich and Jungle.
Shop Meridio bands here!


Nomad Sport Strap in Black & Slate
Nomad, maker of minimalist, practical accessories for Apple Watch and iPhone, just dropped its slick, new Sport Strap. This silicone strap is strong, lightweight, sweat- and water-resistant, and also-super comfortable on the wrist.
Shop Nomad bands here!


Speidel Twist-O-Flex Stainless Steel Band in Silver
The classic Speidel Twist-O-Flex watch band that was all the rage mid-century is now available for Apple Watch. Super comfortable, and very easy to slide on and off. Stretchy stainless steel band available in Silver, Brushed and Black.
Shop Speidel bands here!


Nyloon Tanok Nylon Band
Breathe new life into your Apple Watch with a cool, contemporary nylon band inspired by the original NATO watch strap. Nyloon's bands are super-comfortable, lightweight and versatile, and add a bit of tacti-cool street cred to your wrist. Crafted from two pieces of thick and tough ballistic nylon built to battle the worst weather conditions.
Shop Nyloon bands here!


Strapple Black Crocodilus Band
Made of Italian calfskin leather but stamped to look like crocodile skin, Strapple's beefy Apple Watch band looks exotic but costs a fraction of what a real reptile hide would set you back. Based in The Netherlands, Strapple creates leather Apple Watch straps that are rugged, simple, durable, and timeless.
Shop Strapple bands here!


OleksynPrannyk Double Tour Band in Chestnut
Heeding the call to individual style is OleksynPrannyk's made-to-order and ultra-sharp Double Tour Apple Watch Band. All of OleksynPrannyk's bands are completely customizable with more than five adapter colors and 14 thread colors from which to choose.
Shop OleksynPrannyk's bands here!


Rilee & Lo Stainless Steel Band in Yellow Gold
Rilee & Lo's exclusive bands for Apple Watch fuse tech and style brilliantly, and are designed for both men and women. Made of stainless steel with stunning finishes including gold, rose gold, silver, gunmental, black and navy.
Shop Rilee & Lo bands here!



ullu Premium Leather Band in Tangerine
ullu offers a line of luxury Apple Watch bands in premium leathers that include stringray and ostrich. Super stylish and exquisitely made, ullu bands come in all colors of the rainbow. Based in Dubai, ullu's philosophy on product creation is a nod to the finer things in life.
Shop ullu bands here!


Casetify Steel Mesh Band in Black
Brand-new to Watch Store is the Steel Mesh Band from Casetify. Sleek and durable woven stainless steel strap features a fully magnetic closure to ensure a snug, seamless fit around your wrist. Completely adjustable, this apple watch bracelet will fit just about anyone.
Shop Casetify bands here!


Clessant Batik Band in Red
The Batik Strap from French company Clessant is a refreshing take on an everyday accessory. No two are ever alike. The band is a beautiful blend of ancient Indonesian art, batik, and French leather-making.
The craftsmanship of a Clessant strap is a specific and complicated process, with more than 60 different steps to completion.
Shop Clessant bands here!