12 amazing Apple Watch accessories at insanely low prices
Upgrading your Apple Watch with amazing bands and accessories doesn't have to break the bank. You'll be surprised at how many terrific products you can find for buyers on a budget.
We've rounded up some of the best Apple Watch accessories that are currently priced at $40 or less to help you out. Check out all 15 right here!
All the products we've picked out are available from the Cult of Mac Store. That means they've been tested and approved by our team, so you can be sure your cash is being well-spent.
Whether you're shopping for swanky stainless steel bracelets, lightweight NATO straps, or attractive charging stands, we've got you covered. And half of these products will cost you under $25.
Awesome Apple Watch accessories under $40
Remember when transparent watch bands were some of the coolest things you could slap on your wrist? Elago does, which is why it is bringing them back with its new Clear band for Apple Watch.
Made from a sturdy TPU that's almost indestructible, the Clear band is ideal in any situation. It's not just incredibly strong, but also insanely easy to clean, and ideal for those with active lifestyles who frequently get dirty.
Price: $12.99
Buy from: Cult of Mac Store
Don't let your precious (and pricey) Apple Watch fend for itself in harsh environments. Pick up this tough Quattro Bumper Case from Elkson for essential protection against scuffs and shattered screens.
It protects the sides of your Apple Watch that are prone to scratching when you're hard at work. It also has a lip that helps prevent its screen from rubbing up against anything rough.
Price: $11.99
Buy from: Cult of Mac Store
Laut's simple AW Stand is a single piece of strong aluminum that gives your Apple Watch a place to rest while it's charging. It looks great on any desk or bedside table, and it's compatible with all Watch models.
The top of the stand is angled at 45 degrees to make your Apple Watch easy to read in Nightstand mode, and it has a rubber sleeve that ensures the back and sides of your Watch don't get scratched.
Anti-sleep feet prevent the AW Stand from sliding around, while its three color options — gunmetal, gold, and silver — allow you to match its look with your Apple Watch case.
Price: $29.99
Buy from: Cult of Mac Store
Available in a range of gorgeous color options and made from premium stainless steel, Rilee & Lo's stretch-link bands help make your Apple Watch look better than ever.
They're inspired by high-end jewelry and designed to deliver a premium look, and they're considerably easier to get on and off than traditional stainless steel bracelets.
You'll be hard-pressed to find an alternative stainless steel option that looks this good at that price.
Price: $40
Buy from: Cult of Mac Store
Apple Watch can be an athlete's best friend, but traditional bands aren't suited to some sports. The EdgeGear Shift fixes that problem for runners by putting your Watch on your hand instead.
This makes it much easier to see important stats during your run, and takes the hassle out of having to turn your wrist. The Shift is incredibly comfortable and super-secure.
It's also fully-adjustable, works on both hands, and compatible with all generations of Apple Watch in all sizes.
Price: $39.99
Buy from: Cult of Mac Store
Nylon bands are incredibly lightweight and wonderfully comfortable, and Nyloon makes some of the nicest money can buy in a wide range of colors and styles.
Each one is made of ballistic-grade nylon and fits most wrist sizes. They're thicker and more durable than ordinary polyester bands, and feature stainless steel adapters that are built to last.
They also fit all generations of 38/40mm and 42/44mm Apple Watch.
Price: $39.95
Buy from: Cult of Mac Store
The Active 2.0 is tailored for sports and solves many of the problems you'll encounter with other Apple Watch bands while you're working out. It even fixes some of the problems with Apple's own Sports band.
Unique materials make it wonderfully soft and flexible so that it's a delight to wear all day long. It wraps nicely around any wrist without digging into your skin or causing you to itch.
A machined metal button enclosure means the Active 2.0 is less likely to pinch your skin or catch your hair, as Apple's own Sport band tends to do, while stainless steel adapters are included for added durability.
Finally, the Active 2.0 is patterned to make it much more attractive — and more interesting — than traditional silicone sports bands. And it's available in four great color options.
Price: $29.99
Buy from: Cult of Mac Store
You can also get nylon bands in a NATO strap style, thanks to Carterjett. They're soft and flexible, waterproof, and extremely comfortable — ideal for long days and an active lifestyle.
Available in standard and XXL size options, Caterjett's bands are a great fit for any wrist. They're also compatible with all Apple Watch models, and amazingly affordable.
Price: $24.99
Buy from: Cult of Mac Store
The brilliant Blocks kit lets you build your own Apple Watch stand exactly how you want it. It comes with over 90 different blocks to choose from — all of which are compatible with other building blocks from leading manufacturers, such as Lego.
The included Apple Watch cradle accommodates most bands and bumpers, and you can build your stand around your favorite iPhone cases and accessories, in your favorite colors.
Price: $19.99
Buy from: Cult of Mac Store
Made from high-end Fluor rubber, the Premium band is lightweight and flexible yet surprisingly strong. It uses stainless steel buckles and adapters for added durability, and wraps easily around the wrist.
Its breathable design prevents the Premium band from getting too wet or irritating your skin while you sweat. And because it's completely water-resistant, washing the band when it gets dirty is a breeze.
The Premium band is available in black, blue, and red, and goes great with Apple Watch 6's new color options. But it's also compatible with older 38/40mm and 42/44mm Apple Watch models.
Price: $22
Buy from: Cult of Mac Store
Keep your beloved Apple Watch looking brand-new with the SwitchEasy protective case from just $14.99.
Made from a flexible but sturdy TPU, the case covers the back and sides of your device to keep them from dents, dirt, scratches, and shattered screens. It also comes in four color options.
Price: from $14.99
Buy from: Cult of Mac Store
Mifa's classic band makes premium leather affordable for everyone. It uses genuine leather that's 3mm thick for great durability, and combines it with strong stainless steel clasps and adapters.
Perforated dots along the strap allow it to be more breathable, which means it's perfect for all-day wear. And at just $25, everyone should have one in their collection.
Mifa's band is compatible with both 38/40mm and 42/44mm Apple Watch models, and it comes in black, brown, or gray.
Price: $25
Buy from: Cult of Mac Store
Elago's spectacular Apple Watch charging stands are my favorite products on this list. And if you're a fan of anything Apple, I know you'll love them, too.
They come in a number of outstanding designs inspired by the original Macintosh, the iconic iMac G3, early iPods, and the very first Game Boy. And they come in a number of eye-catching colors.
They're also surprisingly affordable, with prices starting at just $13, so it's a struggle to resist buying them all.
Price: from $13
Buy from: Cult of Mac Store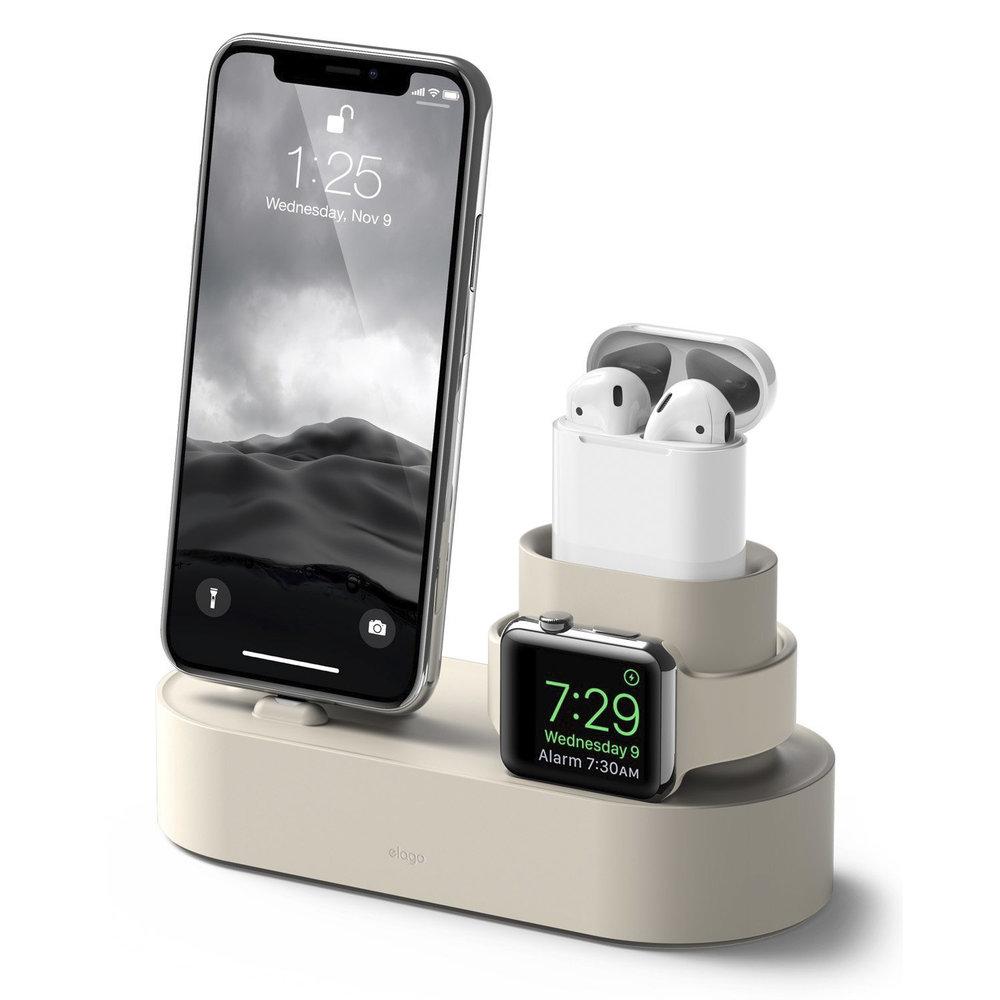 If you need a stand that charges everything, look no further than the Elago 3-in-1 charging hub. It tops up your iPhone, Apple Watch, and AirPods simultaneously — and looks good while doing it.
The hub is made out of silicone so you never have to worry about knocking it over and breaking it, and it's available in a number of pretty colors that look great on any nightstand.
Check out our full review for more.
Price: $29.50
Buy from: Cult of Mac Store
The HEDock is made entirely out of high-grade aluminum, and it costs just $15. It looks good no matter where you put it, and it's crafted to securely hold onto your Watch without falling over.
Its compact, minimalist design means the HEDock will fit anywhere, whether you plan to stick it by your bed or on your desk. And its brushed finish compliments your other Apple products perfectly.
Check out our full review for more.
Price: $15
Buy from: Cult of Mac Store