Your Apple Watch doesn't need to live on your wrist: Bucardo's Apple Watch charm necklaces
Need a little extra flare in your Apple Watch game? Bucardo's Apple Watch charm necklaces transform your Apple Watch into a beautiful accessory, and we took it for a little spin in our unboxing video!
Fashion meets functionality — in wearing these stunning, stainless steel charm necklaces, the Apple Watch is still clearly visible, incorporating itself into the necklace itself. It's a unique and aesthetically appealing way to showcase and use your special timepiece, and it's available in our Cult of Mac Watch store.
A charming way to wear your Apple Watch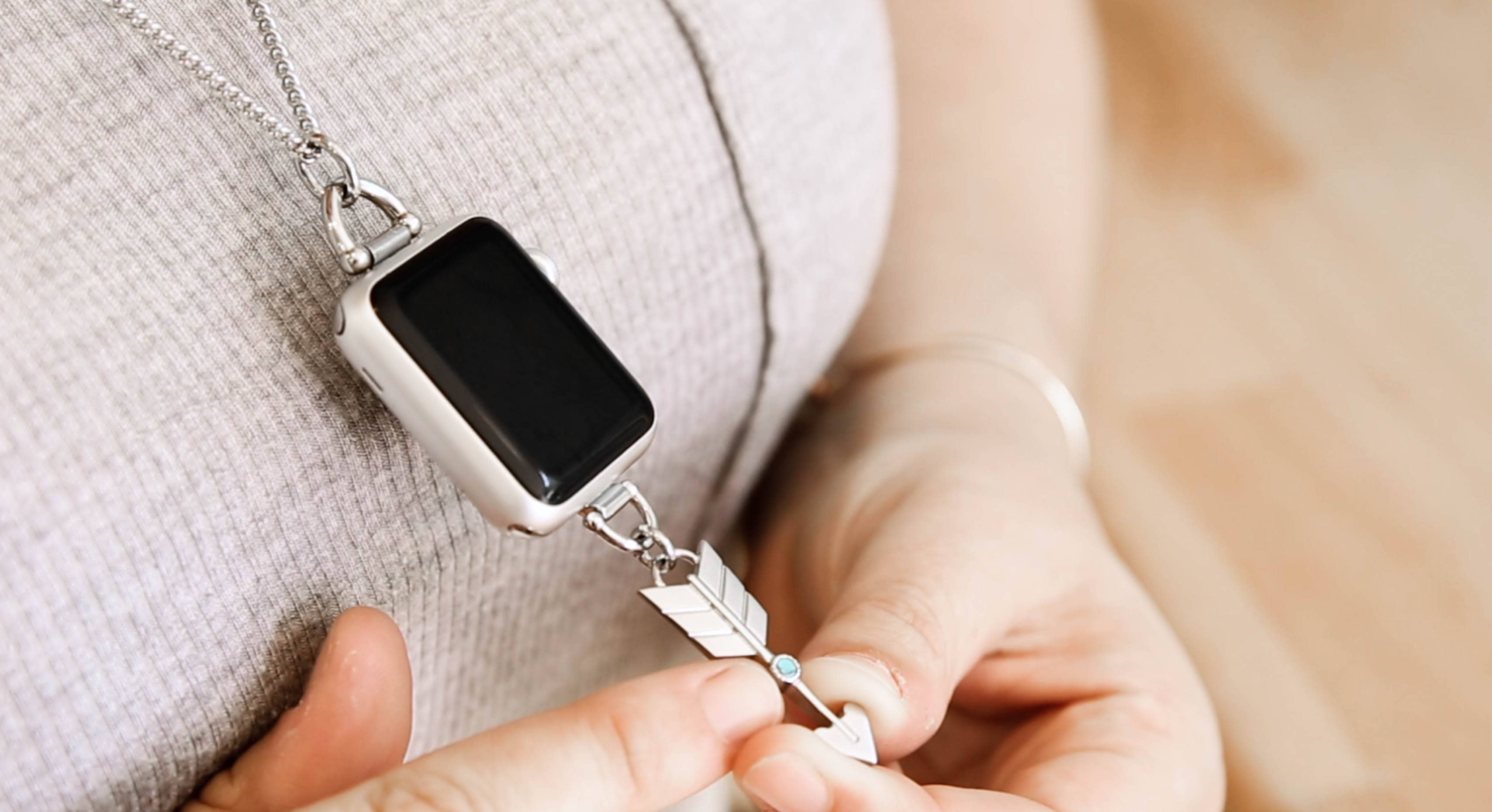 Bucardo features twelve custom molded stainless steel charms for the Apple Watch. Each charm is stamped with their signature hallmark and symbolizes a unique message. While individual charms vary in terms of inlayed gems and even embellished Swarovski crystals, every charm is equipped with beautiful silver or gold finishes and unique accents.
We unboxed Bucardo's $89.25 Silver Arrow charm necklace, an appropriate symbol of strength, courage, and protection. Bucardo's care and attention to style and detail are apparent here. It's simple and elegant, exciting creative new methods of showcasing your timepiece.
In the past, we've unboxed Bucardo's Apple Watch pocket watches. We were so thrilled with our first experience that we just had to do it again with the Silver Arrow charm necklace.
Bucardo turns your Apple Watch into a wondrous, little trinket, bucking current trends by melding vintage style and tech.
Apple Watch performance off the wrist
Inspired by the original way timepieces were worn, Bucardo takes its design cues from vintage jewelry coupled with the dynamism of contemporary culture. Its lineup of beautiful charm necklaces are a reflection of that design philosophy.
Based on our first impressions, Bucardo's charm necklace passed in terms of style and wearability. It's effortless and classic.
But would the Apple Watch be able to perform off the wrist? It is, after all, designed for the purpose of being your wrist's best friend.
Here's what we found:
Bucardo accessories do not interfere with the bluetooth signal, the notifications still function when your Apple Watch is worn off the wrist. The haptic feedback is not as noticeable when Apple Watch is worn around your neck or in your pocket. The activity tracking still works when Apple Watch is off the wrist.
However, note that the heart-rate monitor function will not work when the sensors are off your wrist. But if you aren't concerned with heart-rate monitoring, Bucardo's design is otherwise flawless, a fantastic way to wear your precious Apple Watch, and a perfect gift to yourself or a lucky loved one.
To wear, simply align the cutout for the watch dial on the pocket watch cover to the Apple Watch. Then, slide the wrist straps out and slide the locket in. A elegant yet sturdy 34″ or 38″ metal chain completes the transformation.
You can purchase the Bucardo Silver Arrow charm necklace for $89.25 at our Watch Store.