This silicone Apple Watch band is perfect for fitness freaks [Review]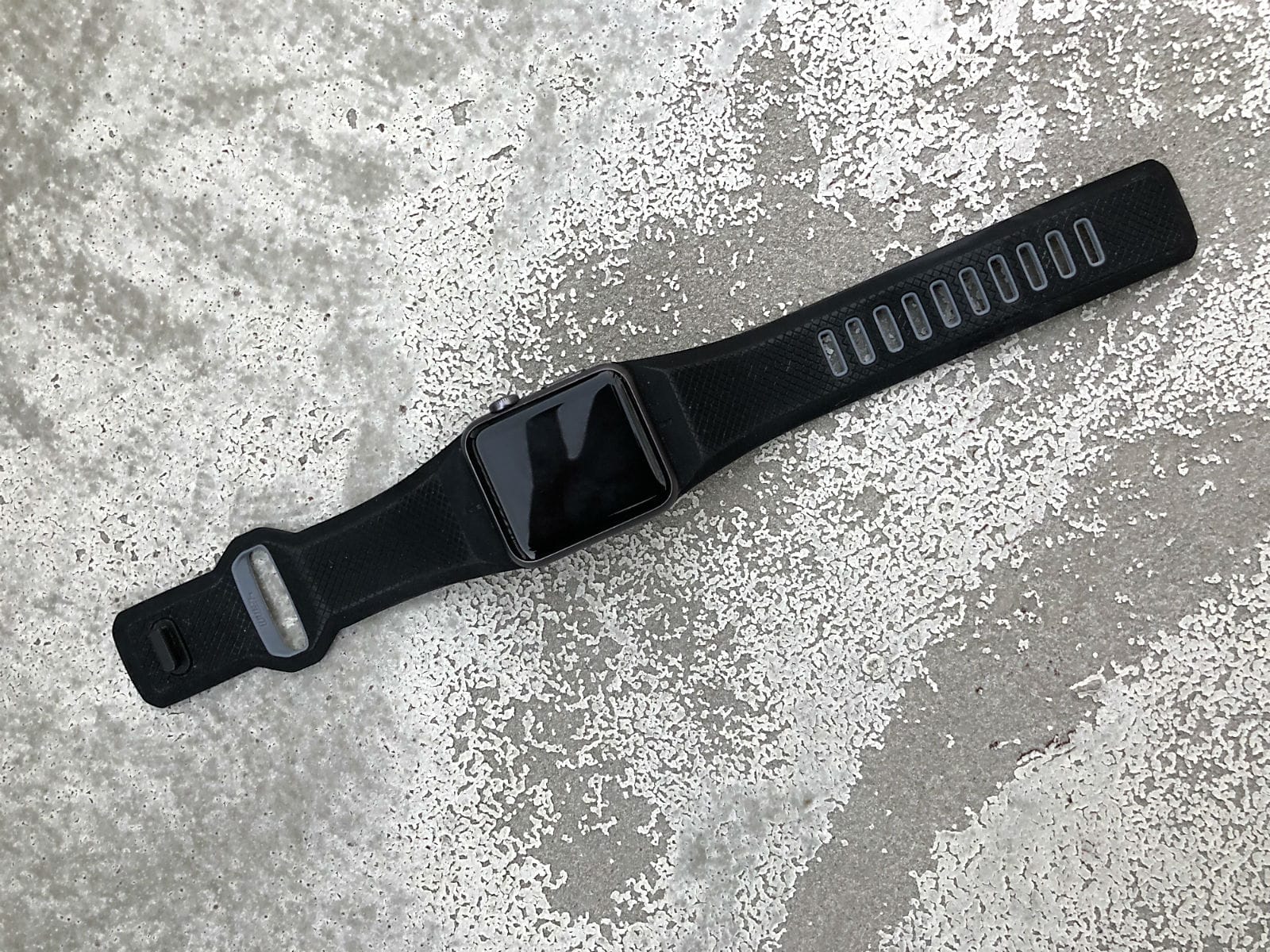 While many Apple Watch bands put fashion front and center, the Nomad Sport Strap embraces the wearable's exercise potential. This wide, black silicone strap makes the Apple Watch look less like a smartwatch and more like a hard-core fitness tracker.
Angela Ahrendts, Apple's senior VP of retail (and former CEO of Burberry), might prefer that you see your Apple Watch as a high-end timepiece. But nothing is going to hide the fact that you've basically got a mini iPhone strapped to your wrist.
That's especially apparent every time I switch from the Nomad Sport Strap to a luxurious leather band like the Clessant Black Barenia. After the swap, the Apple Watch's rounded corners seem far more pronounced. They looked weird to me when I first saw Apple's wearable during its unveiling. And they still look strange when I haven't seen them for a few days.
Nomad Sport Strap: A sporty, aggressive look
When you're wearing the Nomad Sport Strap, you really won't see those corners. The sport band measures nearly as wide as the Apple Watch itself where its sturdy lugs lock it into place.
Unlike many other bands, the Nomad Sport Strap's connector is part of the band. That means you can wear it with any color Apple Watch casing. (Unfortunately, this band only comes in the 42mm size.)
The first few days I wore the Nomad, it reminded me of a thick-necked black snake. The thickness of the band gave it that kind of look, and the cross-hatched texture didn't help. Luckily, I quickly got over it (unlike my ophidiophobia). I quickly came to appreciate the super-sporty design.
As Tim Cook and his fellow execs continually point out, the Apple Watch is a fantastic fitness tracker. Apple's own fluoroelastomer sport bands come in a variety of colors but look pretty basic. Priced at $49, they're solid bands — but they're also quite ubiquitous.
Not your typical sport band
The Nomad Sport Band looks far more aggressive — and a lot different from other sport bands. And at $40, it's cheaper than Apple's bands. I've got the one in black and slate, but the gray accents are really only visible on the underside of the band (kind of like a … snake).
The slate accents show off the rectangular holes that serve as a sizing mechanism. When putting on the watch, you simply pop the durable rectangular buckle through the hole of your choice, then tuck away the remaining length of the band. It's slightly challenging to get right at first, but pretty soon it's a cinch.
A silicone Apple Watch band for sensitive skin
Nomad makes its sport bands out of vulcanized LSR silicone, which the company says is "naturally biocompatible, antimicrobial and hypoallergenic material."
I don't suffer any skin problems, so I can't tell you if this band is better or worse than Apple's bands when it comes to allergies. But if I were looking for a hypoallergenic Apple Watch strap, I would definitely trust the Nomad more than a cheap knockoff band made from some mystery material.
The Nomad silicone band is U.V.- and water-resistant, so the strap won't fade over time. I've been wearing mine off and on for months, and don't notice any difference at all. It remains as rugged and resilient as the first day I strapped it onto my wrist.
Granted, I haven't been running any marathons or swimming in the open sea. But I do work out regularly, and the sweat doesn't seem to make any impact at all on the band.
If you're a fitness freak and an Apple Watch geek, the Nomad Sport Band is a solid choice for making the most of your workouts while standing out from the crowd.
Buy from: Cult of Mac Watch Store
Nomad provided Cult of Mac with a review unit for this article. See our reviews policy and check out more stuff we recommend in our Best List reviews.