Save up to 40% on big brands in Cult of Mac Store's Black Friday sale
The Cult of Mac Store's big Black Friday sale is now in full swing, offering big discounts on awesome accessories for iPhone, iPad, Apple Watch, and more. You can also enjoy free shipping when you spend $40 or more.
Enjoy 40% off everything from Monowear and SwitchEasy, 30% off Laut and Rilee & Lo, and 25% off Mifa. The sale ends next week, so check it out today and bag yourself a bargain before it's too late!
Cult of Mac Store's big Black Friday sale
There's something for everyone in the Cult of Mac Store. We've got cases for all your Apple devices, premium Apple Watch bands, do-it-all charging stands, sturdy in-car mounts, MacBook risers, and lots, lots more.
And in the big Black Friday sale, you can enjoy massive discounts on almost all of it — as well as free shipping (U.S. only) when you spend $40 or more and use the code FREE40 at checkout.
Save 40% on Monowear
Monowear, which makes some excellent accessories for Apple Watch, is offering 40% off its entire lineup. You can get its cracking canvas band for under $23, its metal bracelet for under $30, and leather options from just $27.
Also check out Monowear's genuine leather case for AirPods, now down to $13.20, and its handy Travel Fold up, which keeps a bunch of Apple Watch bands safe while traveling, for just $21.
Save 40% on SwitchEasy
You can also enjoy 40% off everything from SwitchEasy, which offers a massive lineup of cases for iPhone, iPad, and AirTag — plus screen protectors, Apple Watch bumpers, charging adapters, and MacBook covers.
Be sure to check out SwitchEasy's terrific new lineup of MagSafe accessories, which include in-car mounts that make your iPhone easy to see — and much safer to interact with — behind the wheel. Prices start at a mere $7.79.
Save 30% on Laut
Need a high-quality stand for your iPhone, iPad, or MacBook? Laut offers an excellent selection, as well as wonderful stainless steel bands for Apple Watch, protective cases for iPhone, iPad, and Apple Pencil, and more — all at 30% off.
If you own a bike, take a look at Laut's innovate AirTag mount, which let you discretely attach Apple's tracker under your seat or beneath your bottle holder where thieves are unlikely to spot it.
Save 30% on Rilee & Lo
Rilee & Lo's stunning stainless steel stretch-link bracelet is a favorite among Cult of Mac Store customers. It's precisely made from only the best materials, and uses strong elastic for a flexible fit that's always incredibly comfortable.
You can get your stretch-link band in a range of color options — all at 30% off. And enjoy the same discount on Rilee & Lo's matching stacking bracelets.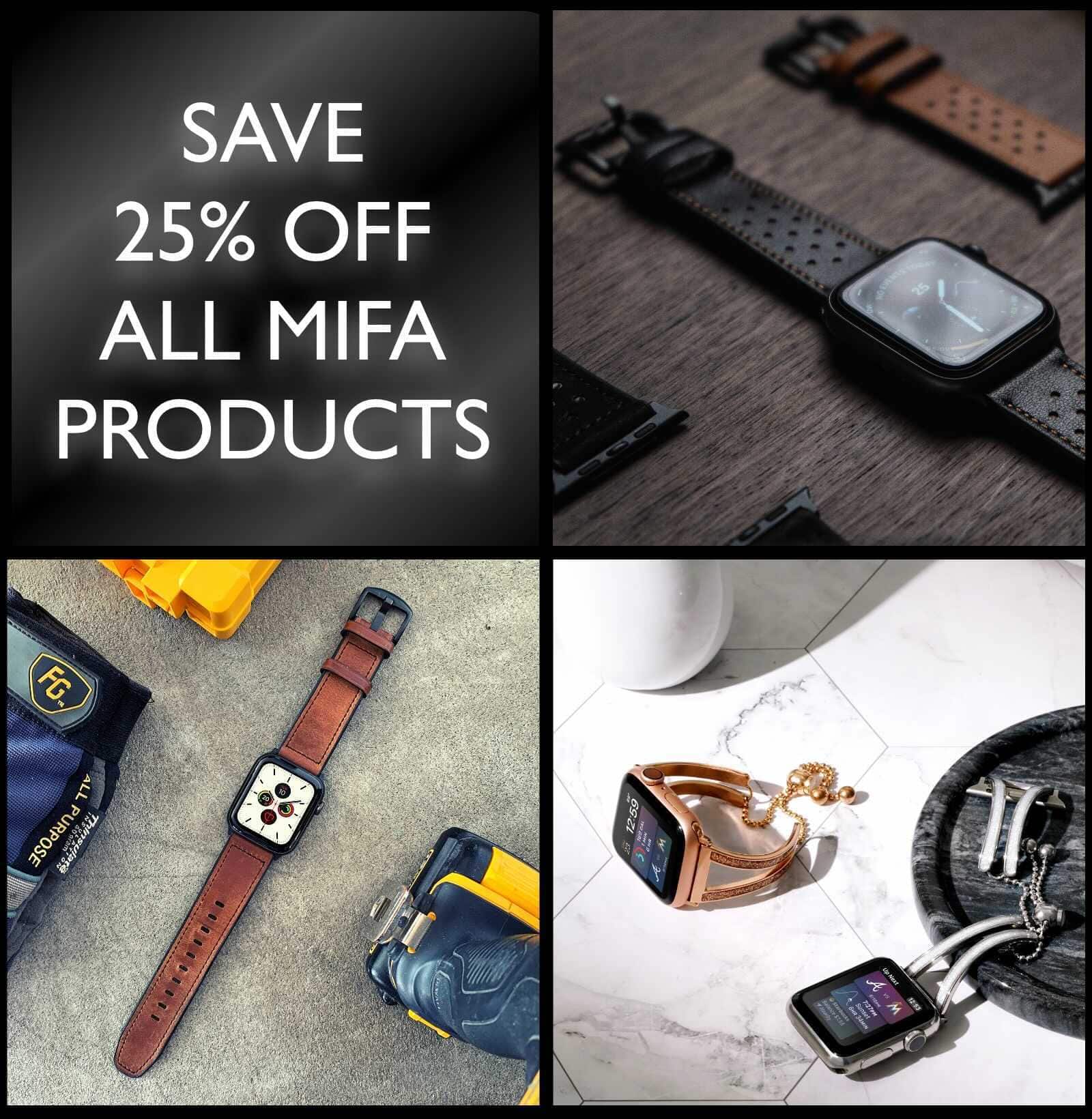 Save 25% on Mifa
Mifa's impressive collection of Apple Watch bands is also on sale right now, with 25% off everything. Check out the Classic Leather for a subtle and sophisticated look, or the Hybrid Sports option that's great for active lifestyles.
Alternatively, bring a bit of bling to your Apple Watch with the outstanding Sparkle Bracelet, which combines shiny stainless steel with exquisite mother of pearl decorations that help make your Apple Watch stand out in a crowd.
More to come
These are just some of the Cult of Mac Store vendors offering big discounts this Black Friday. Check out the Store for more, and be on the lookout for new additions over the weekend.