Get in the holiday spirit with these winter-themed Apple Watch bands [Watch Store]
Just in time for winter wear, check out these seasonal artist-designed, leather Apple Watch bands.
These holiday-themed bands are the latest additions to Casetify's saffiano leather collection in our Watch Store, and they're fun, high-quality bands. Casetify works with artists who create original designs and watercolors on all of these bands — the company also gives a portion of its profits back to its artists.
Check out the lineup of beautiful artist-designed saffiano leather Apple Watch bands in our Watch Store. Cut-off date for holiday shipping is December 15, but these bands are perfect to wear all winter long.

Artist-designed holiday Apple Watch bands
We love Casetify bands for their high style and functionality, and these cute wintertime straps are no exception. These Apple Watch bands perfectly fit all new Apple Watch Series 3, Apple Watch Series 2 and Apple Watch Series 1.
Choose the hardware to best match your Apple Watch. The polished stainless steel buckle is available in three elevated colors: matte silver, matte black and matte rose.
The artwork is created by Lathe & Quill for Casetify. Buy here: $52 Watch Store




The artwork is created by BlackStrawberry for Casetify. Buy here: $52 Watch Store




The artwork is created by BlackStrawberry for Casetify. Buy here: $52 Watch Store




The artwork is created by Daisy Beatrice for Casetify. Buy here: $52 Watch Store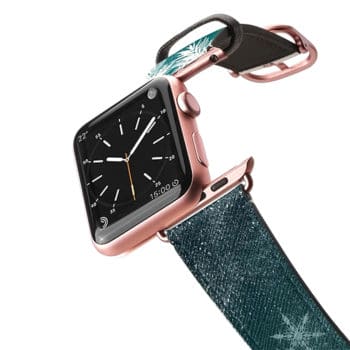 The artwork is created by Girl Trend for Casetify. Buy here: $52 Watch Store




The artwork is created by Girl Trend for Casetify. Buy here: $52 Watch Store




The artwork is created by Girl Trend for Casetify. Buy here: $52 Watch Store