Combine iPhone MagSafe and Apple Watch chargers into one attractive tray [Review]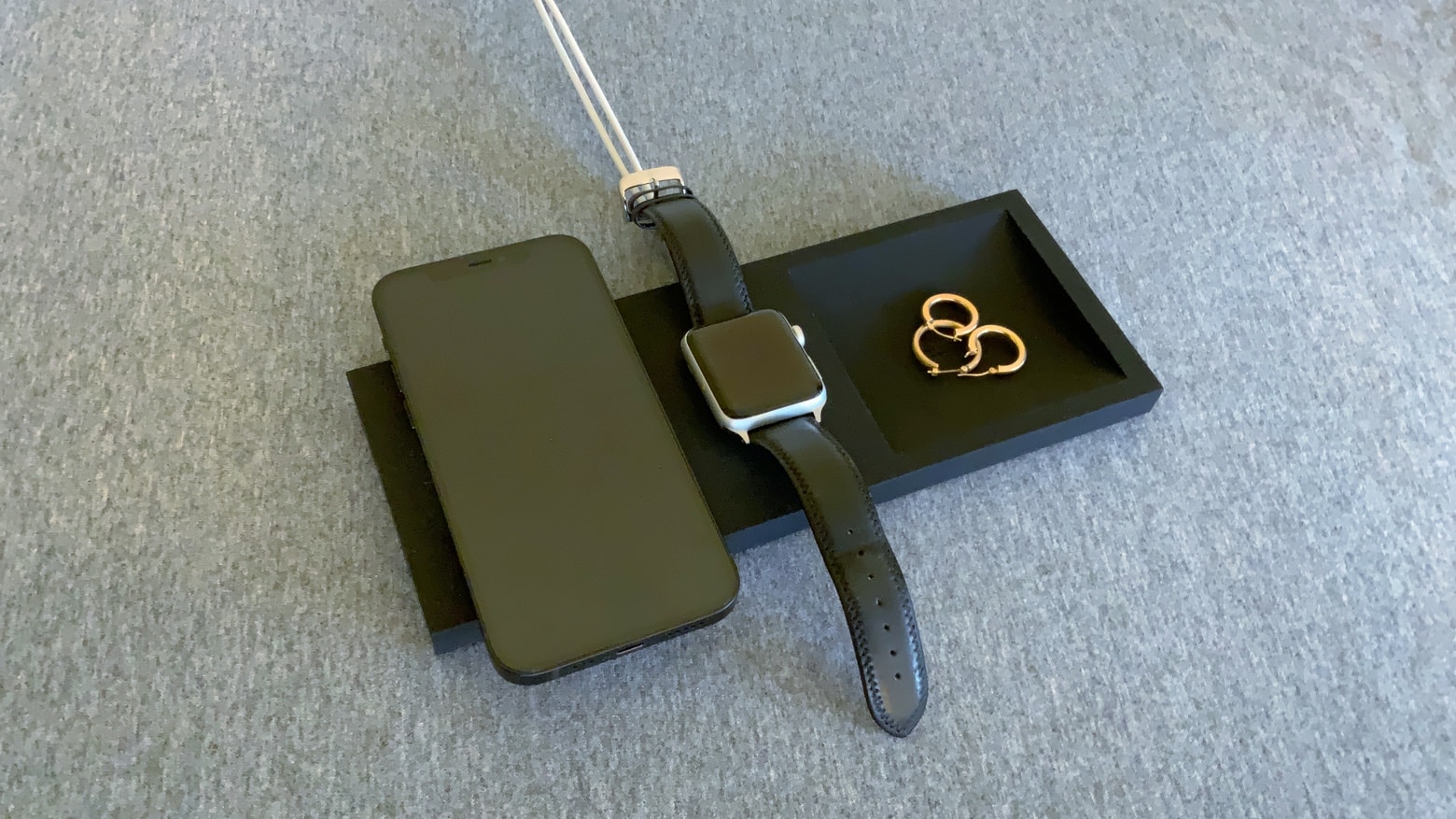 The Elago Charging Tray Duo adds color to your MagSafe and Apple Watch chargers. And brings them together into a single unit for your office or bedside.
I added this accessory to my home. Here's how well it works in real life use.
This post contains affiliate links. Cult of Mac may earn a commission when you use our links to buy items. Read our reviews policy.
Elago Charging Tray Duo for MagSafe review
Apple's wireless chargers look fine if you happen to like aluminum painted white. Those who prefer a different esthetic should check out Elago's offering. It wraps around these chargers, both changing the appearance and organizing them.
It takes full advantage of MagSafe, which embeds magnets in the back of the handset and the charging puck, making aligning the two a breeze. And the new system also enables wireless charging that's twice as fast: 15 watts vs. 7.5W. But it only works with the iPhone 12 series.
Beyond charging, Elago's tray adds a recessed area to hold other items, from rings to paper clips.
Hardware and design
The Elago Charging Tray Duo includes a spot to hold a iPhone MagSafe charger on the left, while a slot for an Apple Watch charger sits in the center. On the right is the space to hold small objects.
The entire unit is 9.5 inches by 3.75 inches. The recessed space is 3.4 inches by 3.2 inches, and its front and back are smooth curves, making it easy to pick up small items.
The tray is made of flexible silicon and weighs 1.1 pounds with both chargers installed. And that is, to me, one of its primary benefits. When left freestanding, Apple's chargers stick tightly to their respective devices. So when I pick up my iPhone, I have to manually remove the MagSafe charger. The same goes for the Apple Watch. With the Charging Tray Duo, I can simply pick up these devices and the chargers stay put.
There's also the benefit of organization. Neatness. This accessory hides the clutter of two separate chargers. And makes room for other small objects.
The Charging Tray Duo comes in black, jean indigo, sand pink or stone. My review unit is black, and I like the look. Elago's company theme is "simple sophistication" and this accessory lives up to that.
Setup
Just so there's no confusion, Elago's tray isn't a charger and doesn't come with one. It's a tray that holds iPhone MagSafe and Apple Watch chargers purchased separately. MagSafe is new, and Apple didn't give many companies advance notice that it was coming. This is a good intermediate step.
The iPhone charger is completely hidden within the Charging Tray Duo. But my tests with a MagSafe charger and an iPhone 12 show that this doesn't interfere with 15 watts of wireless power transfer. All I need to do is put my handset in the right general area and the magnets in the iPhone and the charger take care of the rest.
Installing Apple's accessory Is easy. Flip the tray over, insert the charger into the slot, then feed the wire through the channel.
There is an opening for the Apple Watch charger. Not surprisingly, there's no interference with the wearable receiving 5W of power. Inserting the charger into the tray is simple. And a channel puts this cable next to the iPhone's, helping to minimize clutter.
Elago Charging Tray Duo for MagSafe final thoughts
MagSafe is so new there aren't many options besides Apple's charging puck. Elago created a nifty solution for people who'd like something better-looking than that. And the Charging Tray Duo also does the same for the Apple Watch's wireless charger, reducing the clutter of both.
It organizes your bedside table or office desk, and looks good doing it.
Pricing
The Elago Charging Tray Duo is available in the Cult of Mac store for $29.
Please note that you'll need an Apple MagSafe Charger ($35.99) to plug into this accessory. The necessary Apple Watch Charger ($24.99) came with your wearable. If you decide to buy tray and both chargers, the total would be $89.98.
Comparable products
As noted, the current selection of actual MagSafe accessories is thin. That makes the standout competitor the Apple MagSafe Duo Charger ($129). This can juice up an iPhone 12 and an Apple Watch.
Another option is the Belkin Boost↑Charge Pro 2-in-1 Wireless Charger Stand ($99.95), which can power an iPhone 12 as well as AirPods cases that support wireless charging. But not an Apple Watch.
Please note that even if you purchased both new chargers to go in the Elago Charging Tray Duo the cost is still less than either of these rival devices.
Elago provided Cult of Mac with a review unit for this article. See our reviews policy, and check out other in-depth reviews of Apple-related items.