Best Apple Watch chargers and stands for Series 3
From pocket-size, portable chargers to sleek, modernist stands and power stations, Cult of Mac has your Apple Watch Series 3 charging needs covered.
We've rounded up our favorite stands and docks for Apple Watch Series 3 from some of the best brands on the market — Nomad, Zens, Kanex, Just Mobile and more. Plus, a number of our picks will power up your iPhone at the same time as Series 3. Whether you're on holiday, on the go, at work or at home, we've got a charging solution to fit your needs. Check out our lineup below.
Best Apple Watch chargers and stands for Series 3
Zens Powerbank
This pocket-size charger by Zens is the smallest and lightest external battery pack we've seen. Measuring just over an inch cubed, this ultra-portable charging puck has its own built-in magnetic power adapter and a 1,300 mAh battery – good for up to three full charges. Read our full review of this cute, powerful charger.
Shop Zens' chargers here!


Zens Apple iPhone/Watch Powerbank
ZENS Powerbank lets you charge your Apple Watch and iPhone simultaneously, and is completely portable! It has a 4,000 mAh battery, and fits any watch band. With a slim, minimalist design, the ZENS Apple iPhone/Watch Powerbank is a great way to charge your iPhone and/or Apple Watch at home, work or on holiday.
Shop ZENS' chargers here!


Nomad Stand for Apple Watch
Precision-machined aluminum charging stand. Minimalist, gorgeous design made from a solid, single piece of anodized aluminum. The base is infused with a solid chunk of copper for added weight and stability. Check out our full review of this modern charging stand for Apple Watch.
Shop Nomad here!


Nomad Pod Pro for iPhone and Apple Watch
The Nomad Pod Pro for iPhone and Apple Watch is a minimalist charging puck that packs a lot of power — 6000 mAh to be exact — into a compact design. The portable pod comes with a 9-inch Apple Lightning cable to charge your iPhone as well as a Micro USB cable to fire up the Pod Pro itself. Read our review of the Pod Pro.
Shop Nomad here!


Press Play ONE Dock Power Station
The charging possibilities are endless with the Apple Watch, iPad, iPhone, iPod ONE Dock Power Station with Lightning Dock from Press Play. This power station powers multiple Lightning-compatible devices making this the ideal power solution for any electronic user. It also features a housing compartment to keep excessive cables out of the way.
Shop Press Play here!


Kanex GoPower Watch Charging Stand
Charge your Apple Watch wherever you go with the 4,000 mAh GoPower Battery Pack from Kanex. This battery pack provides up to 10 charges for your Apple Watch. It also features a LED battery indicator and an additional USB port to charge another device simultaneously.
Shop Kanex here!


Kanex GoPower Watch Portable Battery
This Apple Certified magnetic charging dock uses the same inductive charging connector that comes with your Apple Watch. GoPower Watch starts charging your Apple Watch at the touch of a button. That's it! It's cordless charging on the go. With a 4,000 mAh battery capacity, GoPower Watch can charge you Apple Watch up to six times before it needs to be recharged.
Shop Kanex here!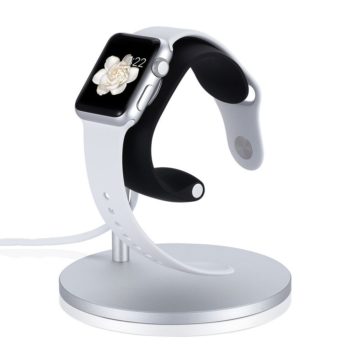 Just Mobile LoungeDock for Apple Watch
LoungeDock is the multi-purpose dock for Apple Watch. Simply slip your magnetic charger into its moulded recess and strap your Watch to the soft-touch cuff, and you have an eye-catching charging stand that will take pride of place on any desktop or bedside table.
Shop Just Mobile here!


Just Mobile HoverDock for Apple Watch
HoverDock is the low-profile charging bed for Apple Watch. With an integrated support for Apple Watch's Magnetic Charging Cable, HoverDock keeps your precious timepiece safe, powered up and always ready to double as bedside alarm clock.
Shop Just Mobile here!


Just Mobile TimeStand for Apple Watch
Design-award-winning TimeStand is the striking aluminum charging pedestal for Apple Watch. Precision machined from a single cylinder of high-grade aluminum, its distinctive circular cut-out gives it a dramatic profile even when empty. Slip your Apple Watch magnetic charger into its rubber-lined recess and TimeStand becomes the most iconic charging stand available.
Shop Just Mobile here!


[FUSE]Chicken Bobine Dock for Apple Watch
Bobine WATCH is the most flexible charge dock for Apple Watch. Easily position your Apple Watch dock in nearly infinite locations. You can even top off your Apple Watch battery while you're on the move with the included auto dash clips. Charge Apple Watch within view on your nightstand, desk, or while driving with the included Dash Stabilizers.
Shop [FUSE]Chicken here!