Apple Watch Series 4 review: So good it'll make your heart race
I have a new best friend. It's the Apple Watch Series 4. Boy, do I love this miraculous little machine.
The new Apple Watch really is wonderful. As with everything else, speed makes it so much more fluid and seamless. The display is gigantic and awesome! There's so much technology packed inside, it's a sci-fi marvel.
I took it for a long bike ride to test it out. Here's what I found.
Over the weekend, I took the Apple Watch Series 4 with LTE on a six-hour, 56-mile bike ride around Marin County, Calif.
I used the watch to track the ride via the Strava app, recording the route and my heart rate. During the ride, I took and initiated a couple of phone calls. The sound was clear and trouble-free. I asked Siri through my AirPods to call my daughter. It worked great. We chatted as I sped alongside Richardson Bay. Huffing and puffing up a hill, I asked Siri for my heart rate and it was displayed on the Watch.
During a rest stop, I read and responded to several texts. I used Apple Pay to buy some supplies, and streamed music the whole ride.
There were a couple of glitches: Siri didn't always understand what I was saying, and I lost LTE connection in a couple of spots, which paused the music. I had trouble switching the AirPods' Bluetooth connection between my Watch and my iPhone. But it worked well enough that I could easily have left my iPhone at home.
Design
For the first time since Apple Watch's introduction in April 2015, Apple has made significant changes to its design. Series 4 is larger, with an edge-to-edge display that allows for bigger faces with more complications, and noticeably slimmer than its predecessors. It now comes in 40mm and 44mm sizes, up from 38mm and 42mm.
Prices for the aluminum Sport models start at $399 for WiFi and GPS; rising to $499 for the LTE version. The stainless steel models start at $699. I tested a 44mm Sport model with LTE connectivity.
Series 4 features a new Digital Crown that's a bit smaller than the last, yet includes more components to allow for things like haptic feedback that delivers a click-like feel as you scroll, and a new electrical heart sensor that's more advanced than anything we've seen before in a smartwatch. I'm a fan of the clicky feel of the new crown. It feels like winding an old analog watch. It just feels right.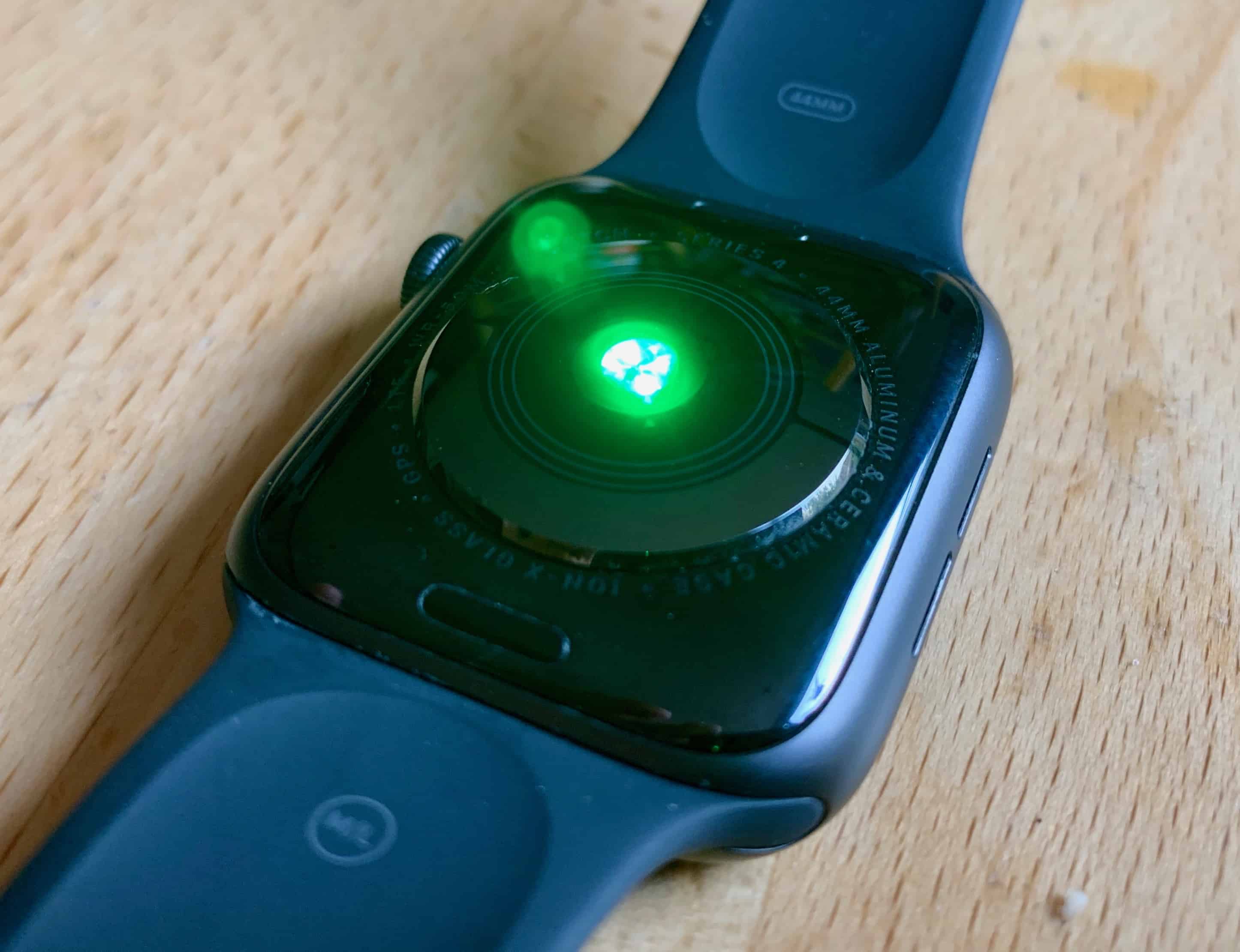 The back of the new Apple Watch is now made out of ceramic, not metal, which Apple says allows for better connectivity. The Watch's microphone has been relocated to the right side of the device to reduce echo during calls, and that's even more important now that Apple Watch's built-in speaker is 50 percent louder. All the calls I've taken on the device have been loud and clear. In a quiet spot, I can even drop my wrist to my lap so I don't look like Dick Tracy, and it works fine.
The large red circle that previously adorned the Digital Crown on Series 3 units with LTE has been scrapped this year, much to the delight of many Watch fans, in favor of a more subtle red ring. It's a small change, but a welcome one. It's not as fugly.
Despite all these alterations — and Series 4's larger cases — this year's Apple Watch is compatible with older bands. Bands purchased for the older 38mm model fit the new 40mm model, while those bought for a 42mm model fit the 44mm watch just fine. I tested a bunch from the Cult of Mac Watch Store and most fitted fine. Some older third-party bands fit better than others, but all of Apple's older bands fit perfectly.
Display
Wow, that screen! The first thing you notice when you pick up the new Watch is that big beautiful screen. It's clearly brighter and more vibrant than the previous Apple Watch, which I compared side-to-side. It shines!
Series 4's gorgeous new display is, for many Watch wearers, the primary reason to upgrade this year. It's absolutely stunning, sharper than previous Watch displays, and the extra space is a delight on a device that's so compact.
Series 4 doesn't really feel any bigger than previous models on your wrist. If you're used to wearing a 42mm Series 3, the 44mm Series 4 feels exactly the same. And yet, everything on screen looks so much bigger thanks to 30 percent more space.
It's still an OLED display, which means colors pop and blacks fade effortlessly into the background. The blacks are bible black. It's also power efficient thanks to LTPO technology, and impressively bright, which makes using Series 4 outdoors easy. I had no trouble reading it in the bright California sunshine.
Apple has introduced a bunch of new faces in watchOS 5 that showcase the Series 4's new screen — one of which can display up to nine complications simultaneously. The Infograph is my favorite new watch face. Fast Company called it a design crime, but I think it's perfect for such a sophisticated device. It provides easy access to many of the watch's features, and provides hours of tinkering.
Performance
The second thing I noticed about the new watch is its speed. The Apple Watch was criticized for being painfully slow when it made its big debut three years ago, and some feared a device this small would always feel sluggish. But Apple's chip engineers have performed miracles. The Series 4's faster processors actually makes you want to use apps on your wrist — everything is basically instantaneous.
This year's Apple Watch is powered by Apple's brand new S4 chip that's up to twice as fast as last year's S3. "The S4 is more than just a processor," says Apple. "It's a complete System in Package (SiP), with the entire system fabricated onto a single component." The watch also includes an improved W3 wireless chip with support for Bluetooth 5.0, and a new accelerometer that provides fall detection.
Apple has spent years building this feature using data from a study that involved 2,500 participants. Its clever algorithms can identify when you fall — versus when you lie down or jump around — and if you don't respond within one minute, your Series 4 automatically calls the emergency services and notifies your emergency contact that you might be in trouble.
It could be life-saving, and it's not the only feature in Series 4 that could have a staggering impact.
ECG
That new S4 chip and other technologies also allow Series 4 to carry out sophisticated electrocardiograms (ECG) anytime, anywhere, in just 30 seconds. The Apple Watch is the first device of its kind to offer the functionality to consumers over the counter — with permission from the FDA.
ECGs are made possible by a titanium electrode built into the new Digital Crown, and an ultra-thin chromium silicon carbon nitride layer that's part of the sapphire crystal on the back of Series 4 devices. When you hold your finger on the Crown, it forms a circuit that allows Apple Watch to read the electrical impulses from your heart.
Sadly, the ECG feature won't be available until later this year, so I wasn't able to try it out yet. But when it arrives, it will make Series 4 perhaps the most advanced wearable money can buy — and it could have a hugely important impact on the lives of people living with heart conditions.
The watch will monitor your heart in the background, and if it detects a dodgy rhythm that may indicate a heart condition, it will test your heart four more times and pop up an alert. Not only will you be able to check in on the condition of your heart to detect things like arrhythmia and atrial fibrillation, but you will be able to share all the data your Apple Watch collects — including the ECG waveform, its classification, and any notes you've added — with your doctor. They will have an always up-to-date overview of your condition like never before. The ECG functionality will be unique to the Series 4, but previous watch models will get the irregular rhythm warnings.
Walkie Talkie
It's not exclusive to the Series 4, but a big new feature highlighted by Apple in watchOS 5 is the Walkie Talkie app. Walkie Talkie allows you to talk to another Apple Watch wearer with a simple press of a button. It works as you'd expect. Hold the virtual button to talk, let it go to listen. It's a fast and frictionless way to talk to someone, and makes me wish my wife would wear an Apple Watch (she refuses).
Battery life
You might think Series 4's larger display, faster chip, LTE connectivity, and new technologies will gobble up battery life, but you'd be wrong. Apple promises the same 18 hours of use (or six hours of outdoor workout time) on a single charge.
I forgot to charge the Watch overnight, so I left for the bike ride with about 85 percent charge (after waiting about an hour for it to charge). The watch lasted exactly six hours. It died a few seconds after I got home and stopped the workout. This is even better than Apple's claims — six hours on 85 percent.
In general, I've never had a problem with Apple Watch battery life. I usually wear it at night and charge it during the day, at my desk, and I cannot even remember the couple of times it's died on me. So far, the Series 4 has performed exactly the same.
The verdict
In just three-and-a-half years, the Apple Watch has evolved into a sci-fi marvel. It takes calls, sends messages, pays for things, streams music, records your heartbeat, tracks a workout, and much more besides. The amount of technology Apple has packed into it is a marvel. It's a capable and beautifully designed device.
If you don't have an Apple Watch, or own an older Series 1 or Series 2, it's a no brainer: get thee down to the ye olde Apple Store and get one immediately. It's a fantastic wrist-worn computer that does a ton of useful things, and even some life-saving ones.
I also recommend getting the LTE model. The Watch can free you from your phone, but you don't sacrifice connectivity. Taking calls and streaming music is reason enough to get it.
If you have the previous-generation Series 3, upgrading isn't as urgent, but the Series 4 is clearly a better device. With the larger screen, snappier performance, and the ECG, upgrading makes a lot of sense.
Cult of Mac staff writer Killian Bell contributed to this review.