Apple Watch Series 2 review: A tick closer to perfection
I finally have a reason to stop cheating on my Apple Watch.
For the past 16 months, Apple's wearable and I have had an on-again, off-again relationship. The Apple Watch looks great. It helps me stay fit. It tells the time really well. But it hasn't been the complete wrist solution I need.
With the Apple Watch Series 2, a lot of the compromises of Apple's first-gen smartwatch have finally been fixed. You can get GPS without carrying your iPhone. The new Apple Watch is water-friendly. And it's built for speed. But with the new, less-expensive Apple Watch Series 1 getting some of the same features, is the Series 2 seriously worth the upgrade?
While working on this Apple Watch Series 2 review, I've been wearing the new device everywhere I go ever since it came out Friday. The short answer is, "hell yes."
Apple Watch Series 2 review
The Apple Watch design you already love
Absolutely no one is going to be able to tell you're wearing the new Apple Watch Series 2 unless you buy the ceramic Edition model. Even then people might not notice.
The Series 2 is a mere 0.9mm thicker than the Series 1. It weighs slightly more, too, which I like because it feels more solid and expensive.
Other than that, everything looks the nearly identical on the outside as the original Apple Watch. Bands connect to the device the same way. The Digital Crown and side button haven't moved (its functionality has changed though). And there's still the same optical heart rate sensor bump on the bottom.
The body of the Apple Watch has never been a problem. It looks fashionable, even though it's one of the most high-tech watches ever made. It's neither gaudy nor nerdy. You can wear it while playing sports or attending a gala, making it a truly utilitarian fashion piece.
Apple Watch Series 2 GPS tracks your every move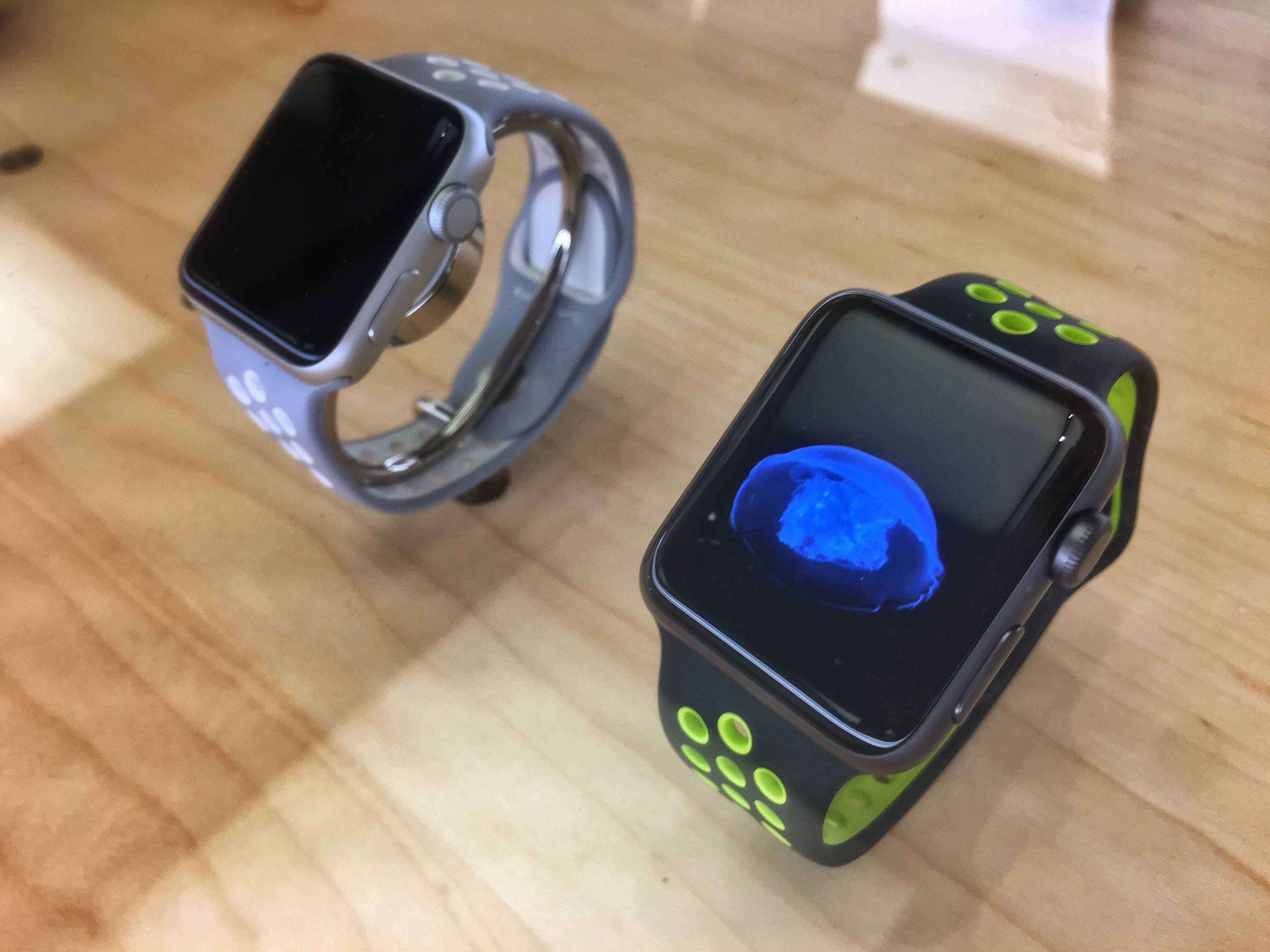 What Apple Watch Series 2 lacks in design changes, it more than makes up for on the inside. The biggest new addition is a GPS chip. This feature alone is worth the buy. Especially if you like exercise.
I no longer need to stuff a Plus-size iPhone into my tiny running shorts when going for a jog now that Apple Watch Series 2 can connect to GPS satellites. The connection is supposed to lock in super-fast, so you don't have to wait for satellites to align just to begin your workout.
One of my biggest gripes with the Garmin Fenix 3 I've been using instead of my original Apple Watch is how long it takes for GPS to lock on. Too many times I've been a quarter mile into my hike before the watch alerted me that it was finally able to get a GPS signal.
Apple Watch Series 2 is supposed to be wicked fast at this, but there's just one problem. The device's screen never shows "GPS" or another indicator to prove it's connected. You just have to take it on faith that there's a connection behind the scenes. Then, when you get back to your iPhone, you can check your route on a map.
In my limited testing, I found the GPS to be pretty solid. It's just as good as other running watches I've used from Suunto and Garmin, only those smartwatches don't pack nearly as many other great features for non-runners and athletic types.
Apple Watch Series 2 display is brighter
Apple Watch Series 2 packs the brightest display Apple has ever made. It's more than two times as bright as the Series 1 (and the original model). The increased brightness doesn't prove that noticeable indoors, but it helps a lot outdoors. While on runs, I could read my workout summary much easier, even under the bright Phoenix sun.
No elevation tracking in Apple Watch Series 2
While Apple Watch Series 2 added a new chip to measure how far you go, it still can't track your elevation. Frankly, this sucks.
If you're a trail runner, mountain biker or hiker, seeing how much you climbed during a workout is important if you want to know just how hard your route was. There's a huge difference in difficulty between running 5 miles on flat roads verses 5 miles with a 2,000-foot elevation gain.
The only way to get your elevation data is to pack your iPhone along for the ride. It's not a huge pain for me because I'd want that data most during a trail run or hike, and I usually carry my iPhone in my backpack. If you want to use it in a race, though, it's still not ideal.
Until Apple adds an altimeter to its wearable, it won't be taken seriously by endurance athletes.
Apple Watch's speedy new processor
The new dual-core processor in the Series 2 packs 50 percent more processing power than the original Apple Watch and you can definitely tell. This watch is screaming fast.
I didn't run Apple Watch Series 2 through a battery of tests, but using it side-by-side with its predecessor you can see just how much faster apps load on your wrist. The difference is absolutely astounding for a second-generation product.
Opening apps on the original Apple Watch was annoying. It required you to hold your wrist aloft while the tiny processor churned for five or 10 seconds. With Apple Watch Series 2, apps feel like they update almost instantaneously.
Apple's watchOS 3 update adds to the speed increase, though, and it's available for any Apple Watch model (including the original). With watchOS 3, native apps load faster than ever and are also more efficient. The update also changes the functionality of Apple Watch's side button: Now it brings up a dock of apps, giving you a quick peek into your most important info.
I'm still waiting for the first killer third-party app, but the big Apple Watch UI change makes getting in and out of apps much faster. (Find out more about watchOS 3 with Cult of Mac's guide: How to use watchOS 3: Tips, tricks and hidden tweaks.)
Apple Watch Series 2 battery life
The extra weight in the Apple Watch Series 2 comes from its bigger battery. This still doesn't bring multiday battery life, so you'll still be charging the new Apple Watch every day. I didn't notice any major gains in battery life, so it's likely that all the extra juice is being used to power the new GPS chip and display.
Water resistance
The water resistance of the original Apple Watch was pretty solid. Trust me: I lost mine three times while cliff jumping, and two times the waterproofing held up long enough for my watch to be found alive.
Apple Watch Series 2 is truly waterproof, with a rating of up to 50 meters deep. You can now feel comfortable showering with a little computer on your wrist, or taking your Apple Watch on your next snorkeling adventure.
My favorite minor new feature is the water-ejecting speaker. Once you finish splashing around in the water, the Apple Watch Series 2 speaker emits a series of sonic pulses to push water out of the wearable. The feature activates automatically when you've finished a water exercise.
Better workouts with Apple Watch Series 2
Thanks to the improved waterproofing, Apple Watch can accompany you on swimming workouts, whether in the ocean or in a pool.
The screen automatically locks as soon as you start a workout, so it won't react to water droplets or water pressure. To end a workout, you spin the Digital Crown (which also activates the audio-ejection procedure to spit out water).
With the Workout app in watchOS 3, you'll also get 12 other modes, including a new setting for elliptical machines and more options under the "Other" category. No matter what sport you're playing, Apple Watch can track it.
So, should you get one?
Anytime I was asked by a stranger whether they should get the Apple Watch, I would tell them no. It's great for telling time and checking your notifications, but if you don't normally like to wear watches (I don't), then it's likely to gather dust.
Apple Watch Series 2 means my answer changes. I still don't think it's a must-have. But if you you want one, go for it. It's the best watch you can get. It's stylish. It's a great fitness tracker. It does more than any other watch ever made.
And now that it can finally track your location and take a swim, it's finally starting to be worthy of the hype.