10 awesome accessories for your new Apple Watch
Now that you've got your shiny new Apple Watch, you'll want some great accessories to go with it. A sturdy charging stand, essential protection, and a selection of great bands are all must-haves.
We've rounded up 10 awesome accessories for any new Apple Watch owner to help get your collection started. They're some of our favorite items available right now, and they're all nicely priced.
Awesome accessories for your new Apple Watch
We've picked out some of the best and most popular Apple Watch accessories from wonderful brands like Laut, Monowear, Mifa, and Juuk. Whether you're into leather bands, metal bracelets, or insanely cool charging stands, we've got you covered. And prices start at just $11.99!
Laut Active 2.0 sports band
Apple Watch can be the perfect workout partner, but only if it's comfortable to wear during even the most strenuous activities. That's why Laut designed the ultra-comfortable Active 2.0 sports band.
Made from a bespoke rubber compound developed specifically for active lifestyles, the Active 2.0 is lightweight, incredibly durable, and feels great no matter what you get up to. It's also sweat-resistant.
Price: $29.99
Buy from: Cult of Mac Store
Monowear Deployant Reserve band
Thanks to a wonderfully simple quick-release clasp, Monowear's new Deployant Reserve band for Apple Watch is ideal for anyone who despises traditional buckles. It's made from genuine leather that's wonderfully soft, and like all Monowear products, it's also nicely priced.
Check out our full review to find out more.
Price: $62
Buy from: Cult of Mac Store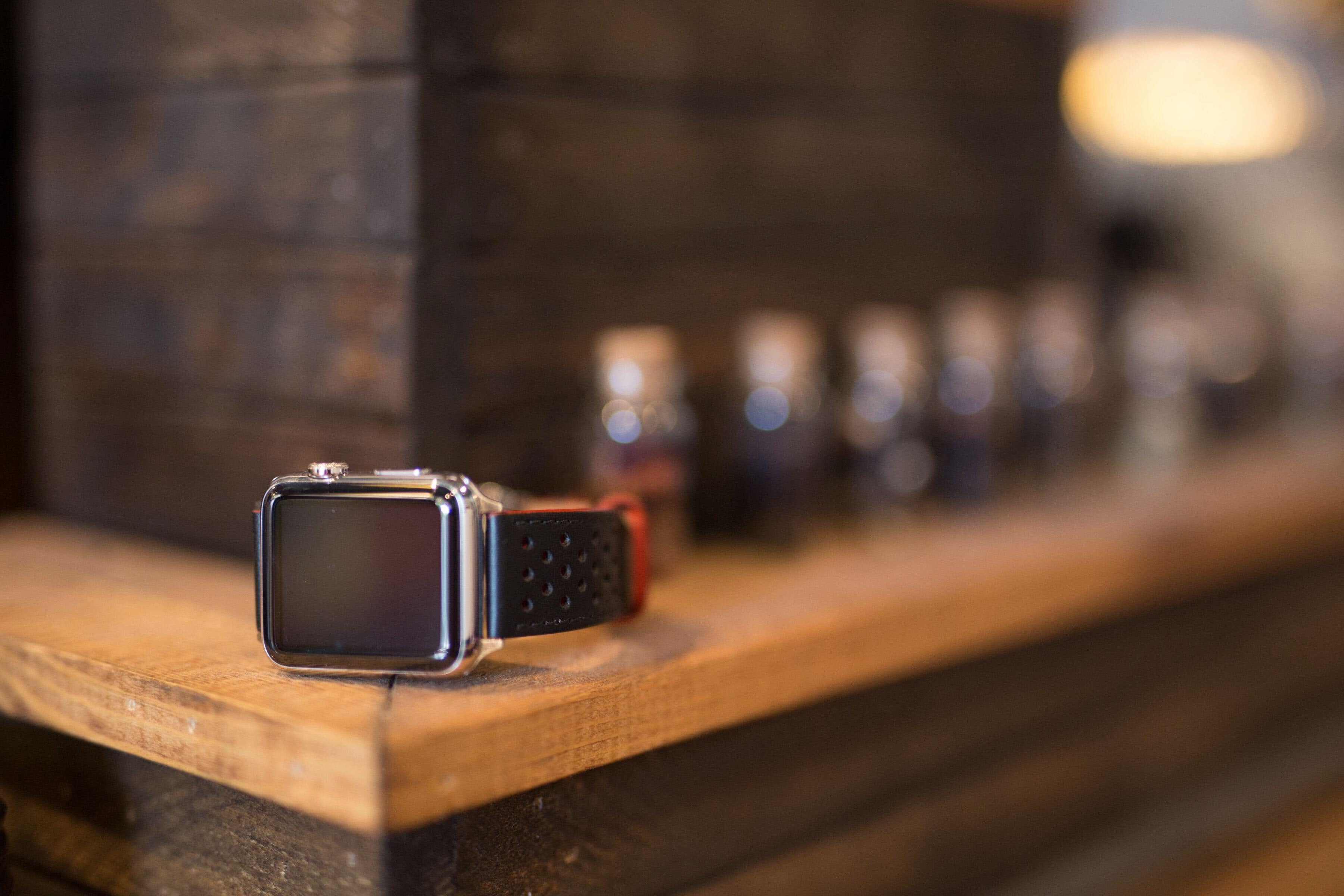 Juuk leather bands
Juuk's new collection of leather Apple Watch bands are some of the nicest we've ever used. They're all made from high-quality leather combined with stainless steel clasps and adapters that look terrific.
The Korza is a classic, understated option that makes Apple Watch feel even more expensive. The Viteza sports a more casual design that's perforated to make it more breathable — ideal for those on the go.
Price: $79
Buy from: Cult of Mac Store
Elago Duo Pro charging stand
Don't spend hundreds on Apple Watch and then leave it to get all scratched up on your bedside table while it's charging. Keep it tidy and protected with Elago's Duo Pro stand.
Its 2-in-1 design, available in four pretty color options, securely holds both your Apple Watch and iPhone (or AirPods) while they're charging and keeps cables organized so they don't get in the way.
Price: $18.50
Buy from: Cult of Mac Store
Laut AW Stand
Laut's simple AW Stand is a single piece of strong aluminum that gives your Apple Watch a place to rest while it's charging. It looks great on any desk or bedside table, and it's compatible with all Watch models.
The top of the stand is angled at 45 degrees to make your Apple Watch easy to read in Nightstand mode, and it has a rubber sleeve that ensures the back and sides of your Watch don't get scratched.
Price: $29.99
Buy from: Cult of Mac Store
Mifa Modern Classic Leather band
Mifa's fetching, beautifully made Modern Classic Leather band uses top grain cowhide combined with aluminum buckles and adapters. It's soft and supple so you can wear it all day long, yet brilliantly robust.
The Modern Classic is ideal for anyone who wants a subtle strap that's ideal for both casual and professional wear. And it's nowhere near as expensive as it looks.
Price: $32.99
Buy from: Cult of Mac Store
Monowear Urban Canvas band
Monowear's gorgeous Urban Canvas bands for Apple Watch are a terrific match for the newest model, with blue and red options that go great with Series 6's brand-new finishes.
The band combines an ultra-rugged canvas layer with a smooth leather backing that makes it incredibly comfortable all day long. Check out our full review to find out more.
Price: $38
Buy from: Cult of Mac Store
Elkson Quattro Bumper case
It seems a shame to hide Apple Watch's gorgeous design. But it's also a bad idea to leave it exposed. You don't want your shiny new smartwatch to get covered in scuffs and scratches.
Protect it with the Elkson Quattro Bumper case. It ensures your Apple Watch won't suffer when you brush up against a wall or walk into a door. It covers all of its edges and has a lip to protect its screen.
The Quattro Bumper is made from military-grade thermoplastic polyurethane (TPU), so you know it's up to the task, and it's available in black or white.
Price: $11.99
Buy from: Cult of Mac Store
Elago retro charging stands
Elago's spectacular Apple Watch charging stands are some of our favorite products on this list. And if you're a fan of anything Apple (or retro gaming), we know you'll love them, too.
They come in a number of outstanding designs inspired by the original Macintosh, the iconic iMac G3, early iPods, and the very first Game Boy. And they come in a number of eye-catching colors.
They're also surprisingly affordable, with prices starting at just $13, so it's a struggle to resist buying them all.
Price: from $16
Buy from: Cult of Mac Store
Juuk Vitero bands
Add a touch of class to your Apple Watch with a stunning Vitero band from Juuk. Made from high-grade aluminum, they're incredibly robust but lightweight, and available in a range of striking styles.
The Vitero band is inspired by iconic race cars, with Y-shaped links that are specially engineered to fold comfortably around your wrist, and a distinctive colored stripe that runs right through the middle.
And because they're made by Juuk, which also makes bands for several premium Swiss brands, you know your hard-earned cash is being well-spent.
Price: $149
Buy from: Cult of Mac Store