Win a Fab Four leather super bundle from Nomad [Cult of Mac giveaway]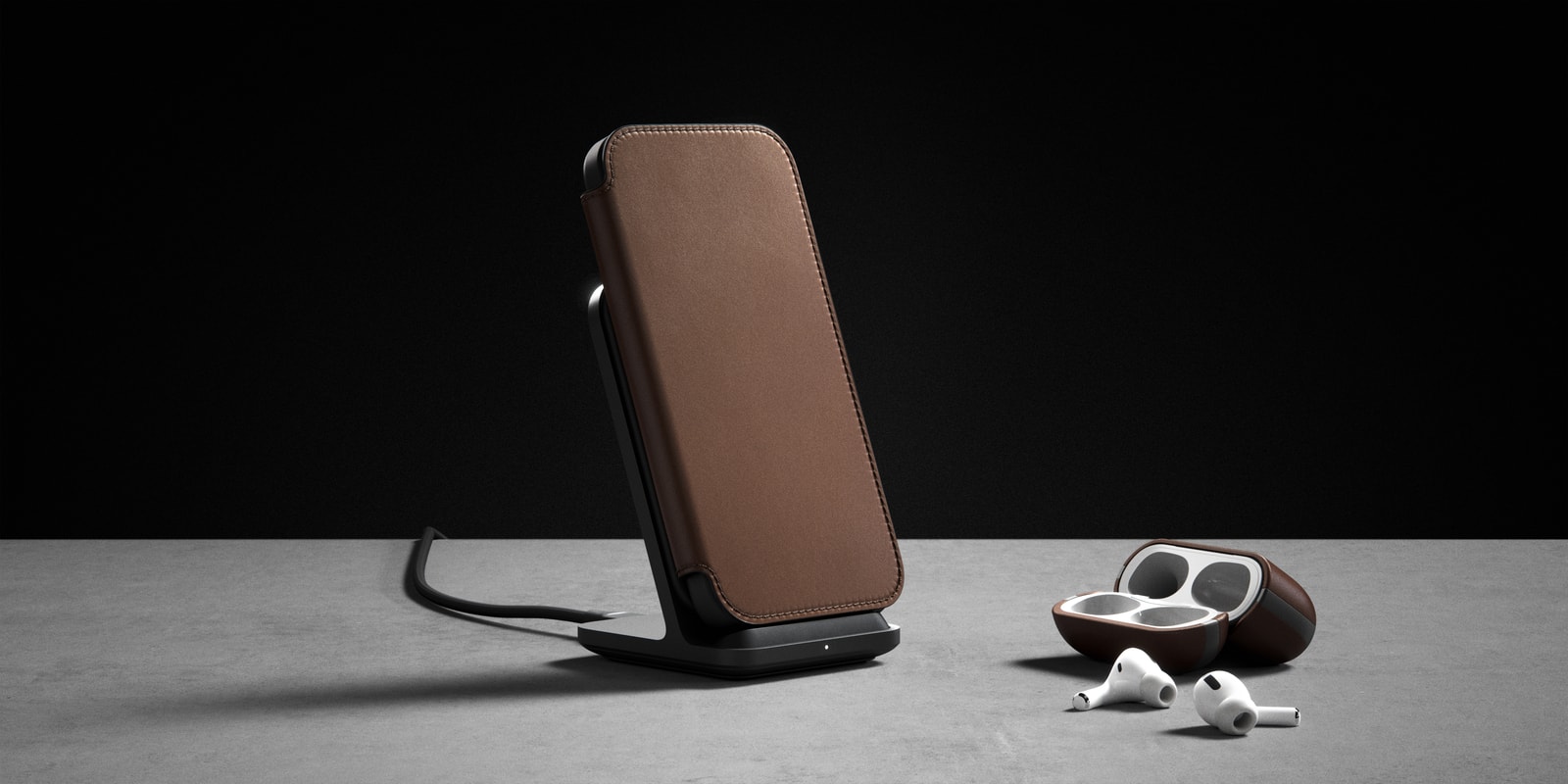 This week's giveaway is a Fab Four super bundle from Nomad, that includes an iPhone case, Apple Watch band, AirPod Pro case and a wallet, all made from traditional and great-looking Horween leather.
Whether you're on an urban outing to get coffee or hiking in the great outdoors, this four-pack leather bundle from Nomad will keep your products protected and make you look as stylish as any influencer on Insta.
If you want to step up your style and get a complete look worth more than $300, make sure and enter this week's giveaway.
Leather from the famous Horween tannery
All the products in this week's giveaway are from Nomad's Rustic Brown series of leather goods. The series features the highest quality leather from the famous Horween Leather Company, a tannery in Chicago in operation since 1905. Among other things, Horween is known as the exclusive leather supplier for footballs and basketballs used by the NFL and NBA.
Rugged Folio iPhone 12 Series case
First up is the $79.95 Rugged Folio iPhone 12 Series case, which combines leathery good looks with a built-in card wallet and bumper protection.
Made from vegetable-tanned leather from the Horween tannery, the Rugged Folio case will develop a patina unique to your use over time.
The case is MagSafe-compatible and works with all MagSafe charging accessories.
It can store up to six credit cards and cash, with one cash slot and three card slots.
Internally, the case features a high-grade polycarbonate body and an internal shock absorption bumper that will protect your iPhone from falls up to ten feet.
AirPods Pro Rugged Case
Next up is Nomad's $34.95 AirPods Pro Rugged Case. Again, the case is made from soft, tanned Horween leather that will develop a unique patina over time.
The case has a two-piece construction, with leather on the outside and a snug microfiber lining to protect your AirPods from scratches and drops.
The Rugged Case AirPod Pro has a useful "optical light pipe" (ie. a hole) that shows the LED charging indicator. It also includes a lanyard attachment for strapping it to your backpack or belt.
Bifold wallet
The third prize in the Fab Four Nomad giveaway is the $119.95 Bifold wallet, which again is made from signature brown Horween leather.
Using a thermoforming process, the leather is bonded to a thin layer of fabric and molded into shape with intense pressure and heat.
There's plenty of storage capacity. The wallet has six card slots that easily holds up to 15 cards, plus a large central pocket for bills. On the outside, there's a single card slot for quick access to the card you use most frequently.
Modern Band for Apple Watch
Last up is the $69.95 Modern Band, an Apple Watch with a new twist on a classic design.
The Modern Band is made with Nomad's signature vegetable-tanned leather from Horween. It will age beautifully with time making the strap unique and different from other Apple Watch bands.
Each strap is fitted with a custom-designed, injection-molded buckle and lugs. The hardware is made from industry-leading, marine-grade 316 stainless steel that creates sharp details. The Modern Band fits Apple Watch Series 6, SE, and all previous versions of Apple Watch.
About Nomad
Nomad is located in Santa Barbara, CA. It was founded by Noah Dentzel and Brian Hahn, who met while surfing. The pair share a love of adventure and are on a mission to create products that are portable, practical and essential to the modern nomad. Their first product was a ChargeCard — a portable USB cable the size of a credit card — that successfully launched on Kickstarter in 2012. Nomad believes the smartphone is the 21st century equivalent of the sword. Both are tools that can change the world. That's why Nomad only uses the highest-quality materials available that stand out and will last — wherever your next adventure takes you.
Enter our Nomad giveaway
Use the entry widget below to sign up for our free Cult of Mac Today newsletter and enter the giveaway. Plus, connect with Cult of Mac in a variety of other ways to get additional entries.
Win a four pack adventure bundle from Nomad Contest open to residents of the United States only. iPhone, Apple Watch, AirPod Pro are not included. Contest ends at 11:59 p.m. PDT on August 1, 2021. See Terms and Conditions for more information about the giveaway.
We originally published this post on July 27, 2021.