In no hurry? Sleek, compact Zens 4-in-1 magnetic charger tops up your gear. [Review]
The Zens Magnetic + Watch Wireless Charger stands in the ranks of MagSafe-compatible chargers designed to be your go-to device for juicing up multiple pieces of Apple gear — and the sleek and compact 4-in-1 device does it in style. But not with a huge amount of charging power.
The Zens Magnetic + Watch Wireless Charger tops up four devices — all at once, if you like.
A puck on a dark metallic stem holds a MagSafe iPhone (12 or 13 series) firmly in place, horizontally or vertically. The surface underneath charges an AirPods case or any Qi-enabled device. A USB-A charging stick lets you top off an Apple Watch in Sleep mode. And a USB-A port on the side powers up something else, like an iPad.
Zens Magnetic + Watch Wireless Charger: What's great about it
Zens' 4-in-1 charger works like it's supposed to work, and it looks good doing it. Zens crafts it mostly from matte-black aluminum that gives the charger a sleek look and feel. It has just enough heft to feel like a premium product. It certainly doesn't give off any impression of being a plastic product.
The somewhat small footprint of the device is another plus. It's compact enough — while fully capable of charging four devices at once — to fit on a bedside table. Or a side table by the front door. Or wherever you find convenient as the main place to plunk down your gadgets for a charge.
And you can take the sturdy, MFi-certified charging stick out of its slot on the right side of the charging bed and stick it in a USB-A port on a laptop. That gives you another convenient way to charge your Apple Watch.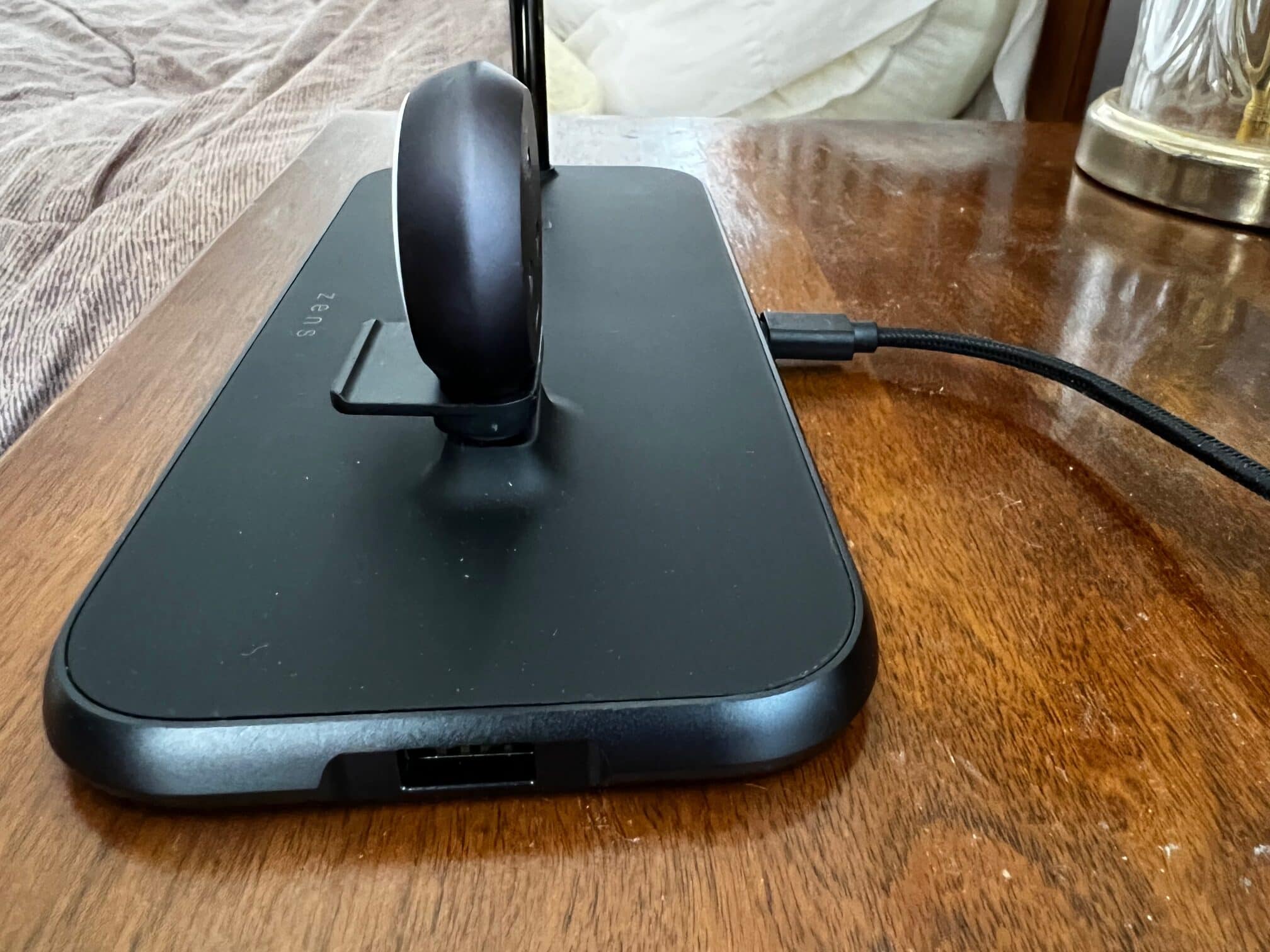 Out of the port in the back of the charger you can run the included 30W USB-C PD power adapter via its nice, braided, tangle-resistant cable. And speaking of powering the charger, it comes with alternative plugs for use in the EU and the UK. Zens is, after all, a Netherlands-based company.
What's not so great about it: Charging speeds
The Zens Magnetic + Watch Wireless Charger is handsome, sturdy and capable, well-designed to charge four devices. But it's not the fastest way to charge some of those devices. As more people become fans of fast charging for iPhone and other gadgets, this could become more of an issue.
The product's specs list 2 x 10W overall power delivery. Being MagSafe-compatible but not actually a MagSafe product using Apple's specific technology, the charger delivers 7.5W of power via the floating iPhone puck. It appears the pad underneath feeds 5W to a Qi-enabled device like an earbuds case, the same power issued from the USB-A port on the side for another device, like an iPad. The charging stick for an Apple Watch probably delivers 2.5W. Numbers may vary depending on the number of devices charged.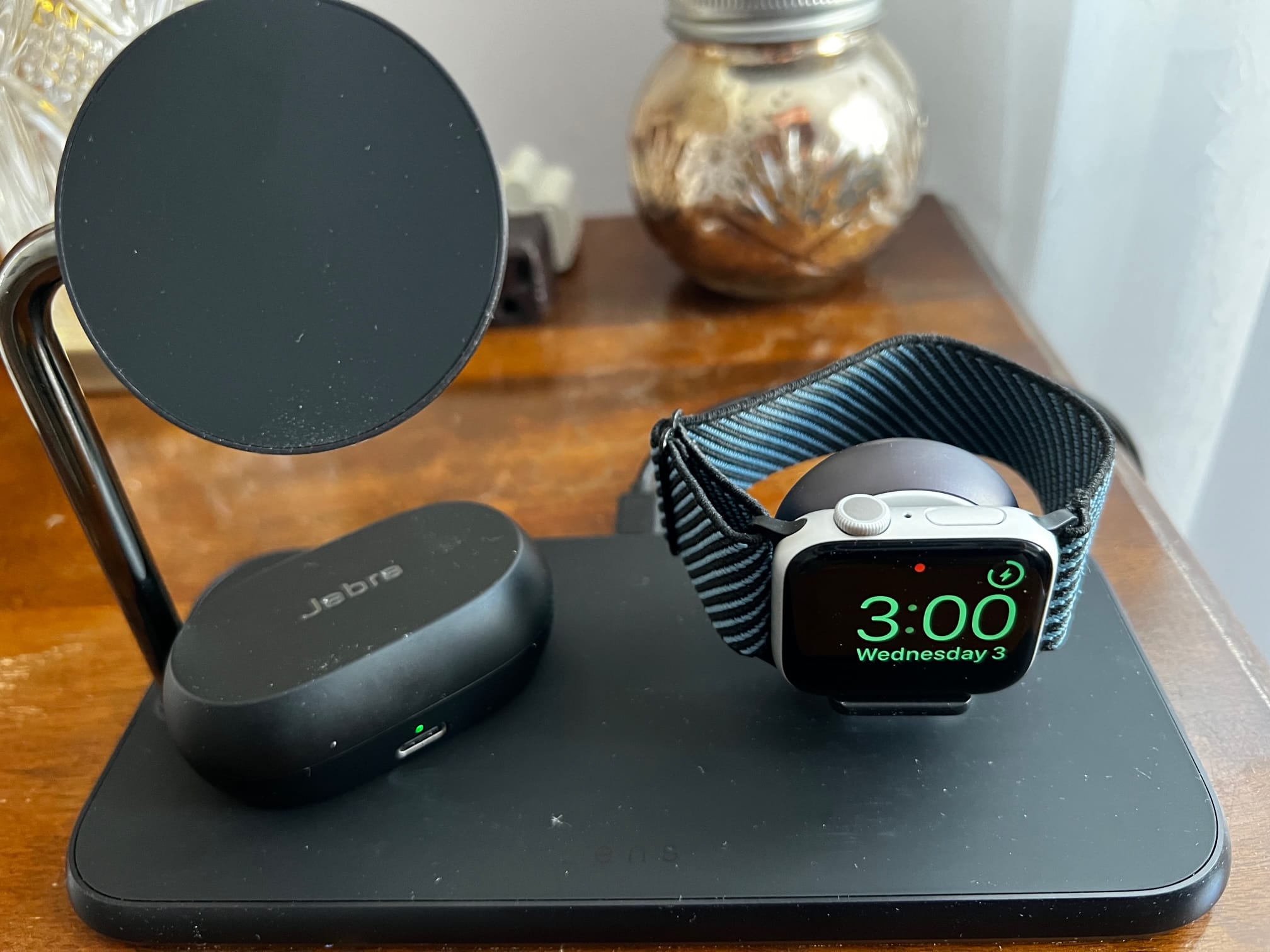 That's all fine, especially for overnight charging, where time is no issue. But if you want a quick charge because you're in a hurry, it might pay to use a faster alternative charger.
Apple sells a 20W USB-C wall charger that will more than cut in half iPhone charging time compared to the Zens. And Apple's official MagSafe charger offers 15W of power. Belkin offers some MagSafe chargers. A lot of folks would want a faster charge for their iPad, too, which could call for a high-wattage charging block.
The Zens Magnetic + Watch Wireless Charger is a nice product. With its 4-in-1 charging capacity, it's convenient, too. But whether it's $149 price tag is worth it is up to you, depending on how fast you want to charge your gadgets.
Price: $149
Where to buy: Zens
Zens provided Cult of Mac with a review unit for this article. See our reviews policy, and check out other in-depth reviews of Apple-related items.